Michigan for the Winter Release

❄️❄️ 𝐇𝐎𝐓 𝐍𝐄𝐖 𝐑𝐄𝐋𝐄𝐀𝐒𝐄 ❄️❄️
𝐌𝐢𝐜𝐡𝐢𝐠𝐚𝐧 𝐟𝐨𝐫 𝐭𝐡𝐞 𝐖𝐢𝐧𝐭𝐞𝐫 𝐛𝐲 𝐃𝐫. 𝐑𝐞𝐛𝐞𝐜𝐜𝐚 𝐒𝐡𝐚𝐫𝐩 𝐢𝐬 𝐋𝐈𝐕𝐄! 𝐃𝐨𝐧'𝐭 𝐦𝐢𝐬𝐬 𝐭𝐡𝐢𝐬 𝐡𝐢𝐥𝐚𝐫𝐢𝐨𝐮𝐬 𝐚𝐧𝐝 𝐬𝐞𝐱𝐲 𝐫𝐨𝐦𝐚𝐧𝐭𝐢𝐜 𝐜𝐨𝐦𝐞𝐝𝐲!
#𝟏-𝐜𝐥𝐢𝐜𝐤 𝐭𝐨𝐝𝐚𝐲!
BOOK BLURB
From bestselling author, Dr. Rebecca Sharp, comes a sexy, neighbors-to-lovers romantic comedy...
Ryan Finan needed a change of scene.
No more warmth. No more wooing.
No more women.
Needing to get over what the last woman did to him, he's fled to Michigan for the winter.
A secluded cabin, a wood stove, a bottle of scotch, and guaranteed solitude are all he needs… until Winna Madden recklessly collides into his path—
and other parts of him.
With her fresh beauty, captivating awkwardness, and far too much talk of freshly jerked meat, Ryan struggles to give his temporary neighbor a necessary cold shoulder.
Having lived in this neck of the woods all her life, Winna knows the gorgeous recluse isn't prepared for a Michigan winter—nor for the kinds of harsh truths it brings. She's determined to be a good neighbor—no matter how much he grouses.
As temperatures plunge, their walls tumble down faster than the snow. Soon, the only thing left is a wild desire burning between them.
But Ryan's stay always had an expiration date. When it arrives, will he walk away?
Or will the warmth he found with Winna tempt him to stay?
#Purchase Now!
❄️Amazon:
mybook.to/MichiganForTheWinter
🐶
ADD to GR:
http://bit.ly/MighiganForTheWinterGR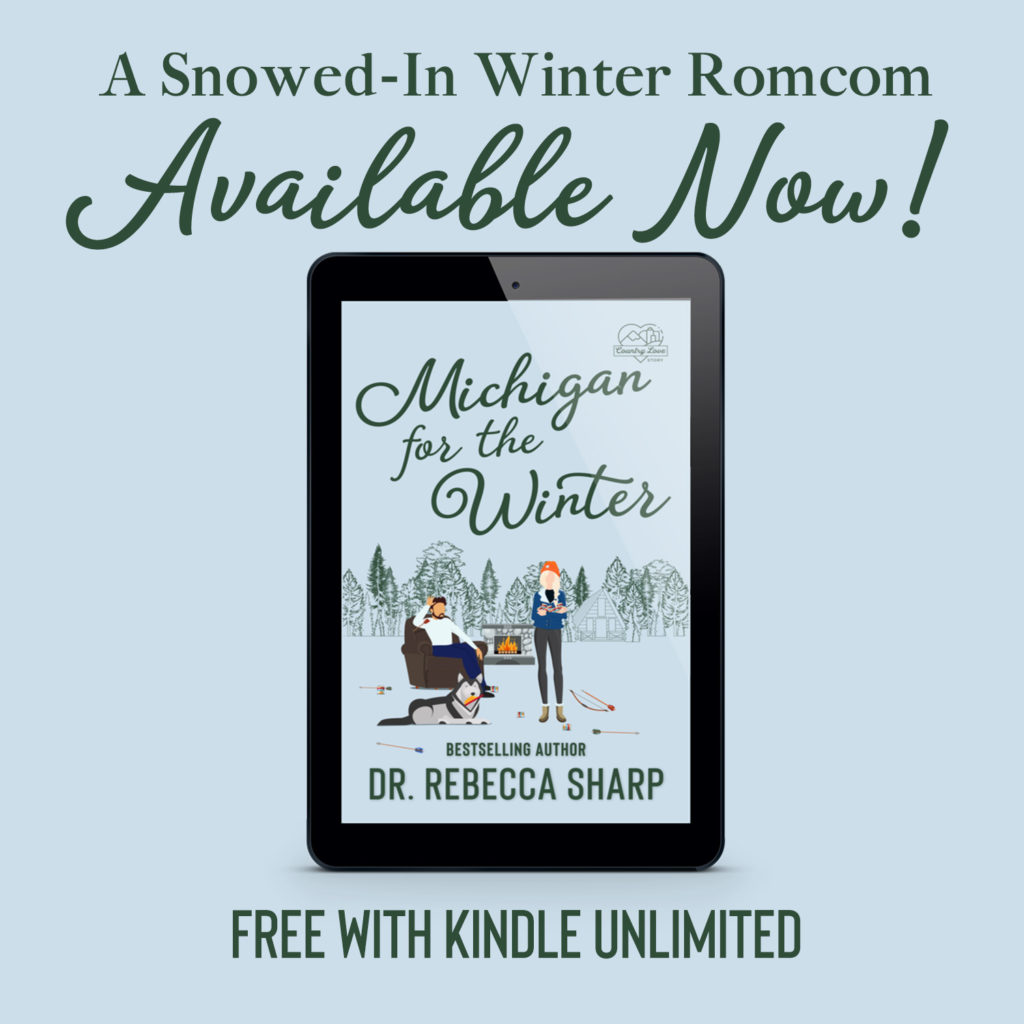 TEASERS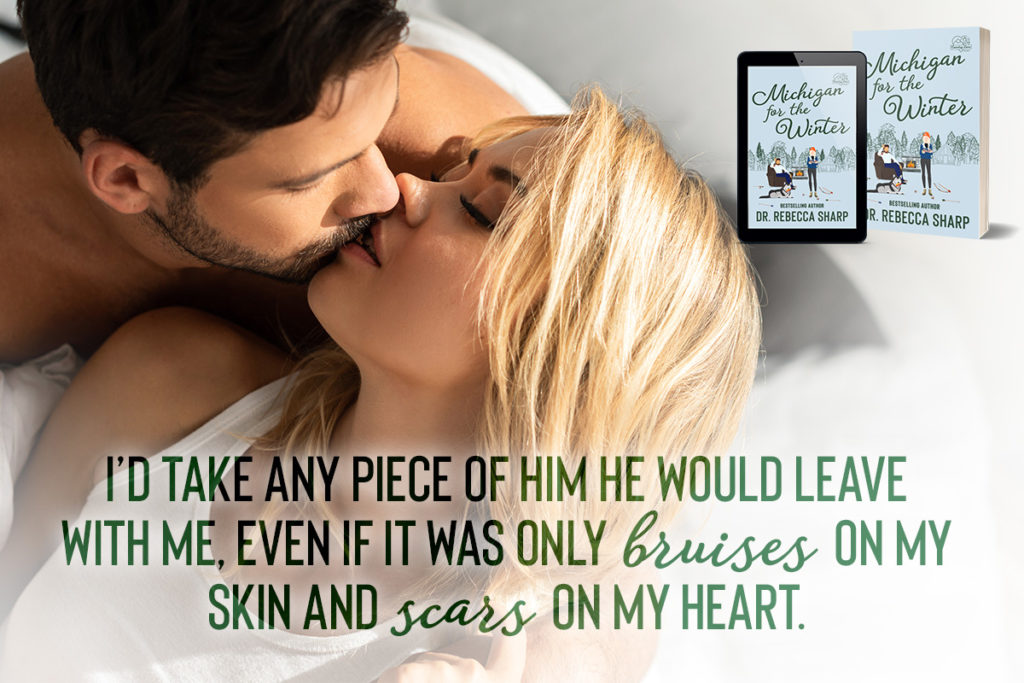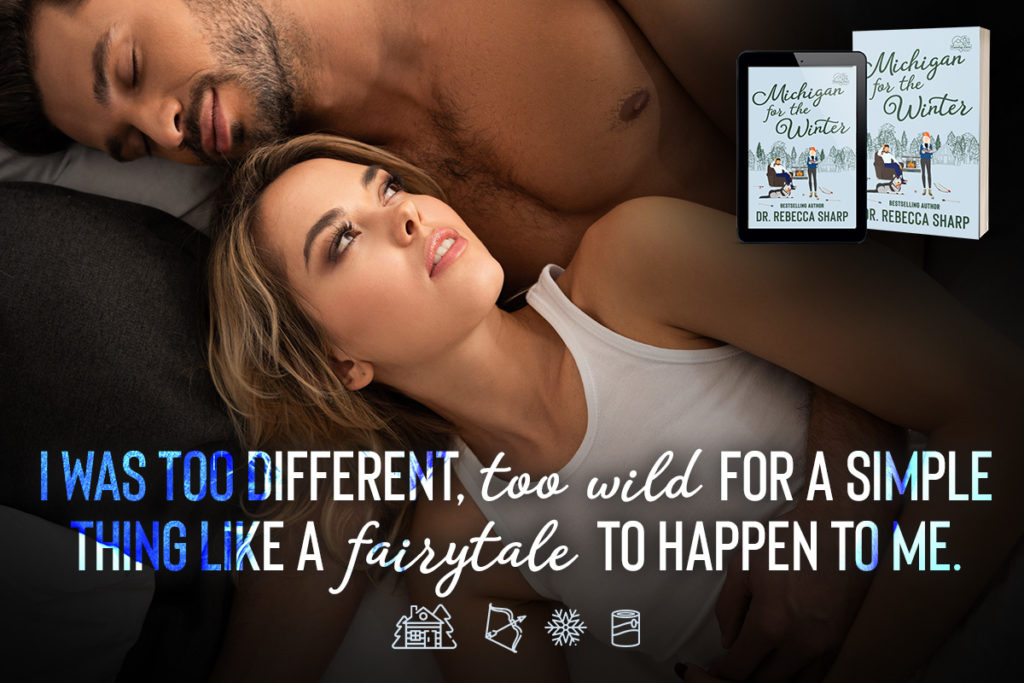 Review:
Ryan needs to get away after selling his company and finding out the betrayal of his girl he's needing a place to just be him and find peace. He chooses a small town in Michigan in the dead of winter. All he wants to do is get to the rented cabin, but when he can't find it he stops and asks for directions. What he doesn't plan on his cans of SpeggettiOs getting in the way. Winna has been cared for by her dad and uncles, all she knows is the outdoors and how to hunt, kill, and survive. What she doesn't do are men and their sexiness. Ryan and Winna have an attraction for sure, but it's Ryan who puts the breaks on. However, Winna man I loved her she just keeps pushing, but there is an end date in sight. Can these two learn and grow with each other in ways neither of them expected? Or will Ryan leave when the time comes? Fall in the cold with Ryan and Winna a go-along for the fun ride.
ABOUT THE AUTHOR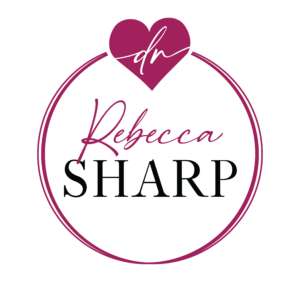 Dr. Rebecca Sharp, while using a pen name, is actually a doctor living in Pennsylvania with her husband - the love of her life.
She enjoys working in her practice with her father as well as letting her creativity run free as an author. Growing up she's always loved a good love story and finally decided to give writing one of her own a go.
After graduating with her doctoral degree, she now enjoys spending that thing called free time traveling with her husband, cooking, and knitting.
AUTHOR LINKS
Facebook |
Reader Group |
Instagram |
Twitter |
Mailing List |
Goodreads |
Amazon |
BookBub