Duke in Shining Armor Release
Lady Catherine Davenport never planned to be a damsel in distress, while Lord James Hastings, Duke of Pembroke, enjoyed the pleasures of any man with no intention of considering marriage. When a twist of fate brings them together, he unexpectedly becomes her savior, yet a threat to her at the same time. Fans of Alyssa Clarke, Stacy Reid, and Tamara Gill will swoon for Duke in Shining Armor by Hayleigh Mills, an Open Door, Opposites Attract, Historical Victorian Romance.
Far from a helpless maiden, Lady Catherine Davenport had her wits and a trusty derringer pistol at her disposal. As she journeyed to Switzerland to attend school, she did not plan to play the
damsel in distress. Yet, even the most independent lady could use a bit of unexpected assistance when faced with the threat of highwaymen.
Enter Lord James Hastings, Duke of Pembroke, a man of wealth often maligned as a rogue or a rake. The truth, however, lay far from these labels - he was an industrious man of leisure, delighting
in worldly pleasures as any man of his station might. Marriage was the last thing on his agenda until he crossed paths with the fiercely independent and intellectual Lady Davenport.
He becomes her savior in a turn of fate, offering her protection under the most extraordinary circumstances. He was able to keep Catherine safe from the highwaymen, but the real question
remains: could he protect her from the danger he himself posed?
Add to Goodreads!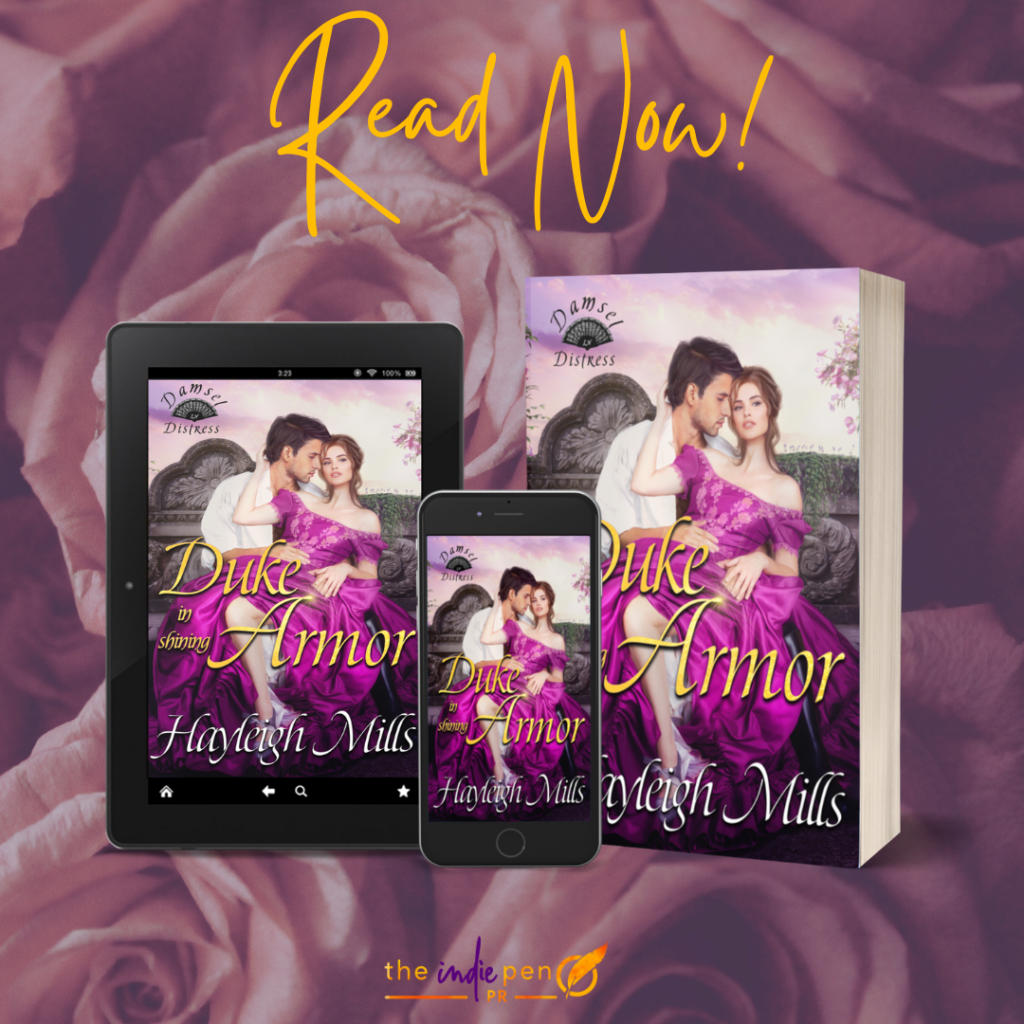 Excerpt
Copyright 2023 @Hayleigh Mills
She was surprised to see the duke walking into the bedchamber so early in the afternoon. The door remained open, and the maid hovered there. Deep inside, where she held all her secretive
improper thoughts, Catherine wished they were alone without a chaperone. Perhaps then she would learn even more hidden complexities about the duke. And she so wanted to know everything.
"Good afternoon, Catherine. Yesterday you mentioned needing some fresh air, and I have considered this. The physician believes you are healing well so a short visit outside is in order."
Catherine's face lit up with a smile. She longed to feel the sun caress her skin and to breathe dew kissed air. She was pleased to learn that James would indulge her.
"I have had cook prepare us a hamper, and we shall have a picnic in the garden."
"I am most grateful, James."
A ghost of a smile touched his mouth, and he briefly dipped his head. "Well, that is settled, and everything is prepared. Now, we must have regard for the physician's instructions. You cannot
stand on your feet, so I shall lift you, and take you there. Shall we?"
Lift her? There gazes collided and suddenly she knew without any doubt that the duke's heart was pounding as harshly and loudly as hers. There was something in those hazel eyes, a guarded
awareness yet a delight. As if he had longed to hold her closer.
"Yes," Catherine replied in a soft murmur, releasing the edges of the sheets that she'd gripped.
James padded over and scooped her effortlessly from the bed. She was so close to his face that her eyes were suddenly drawn to his lips before she quickly averted her gaze.
She placed one arm around his neck and the other on his shoulder. Her heart jerked and Catherine marveled at the feel of his muscles beneath her fingertips. It was rather uncanny, but she
had a
sense that … that she belonged right here in his arms. They felt powerful, and protective. She knew no harm would befall her when he held her.
Oh, Catherine, she silently scolded herself, do not be silly and fanciful!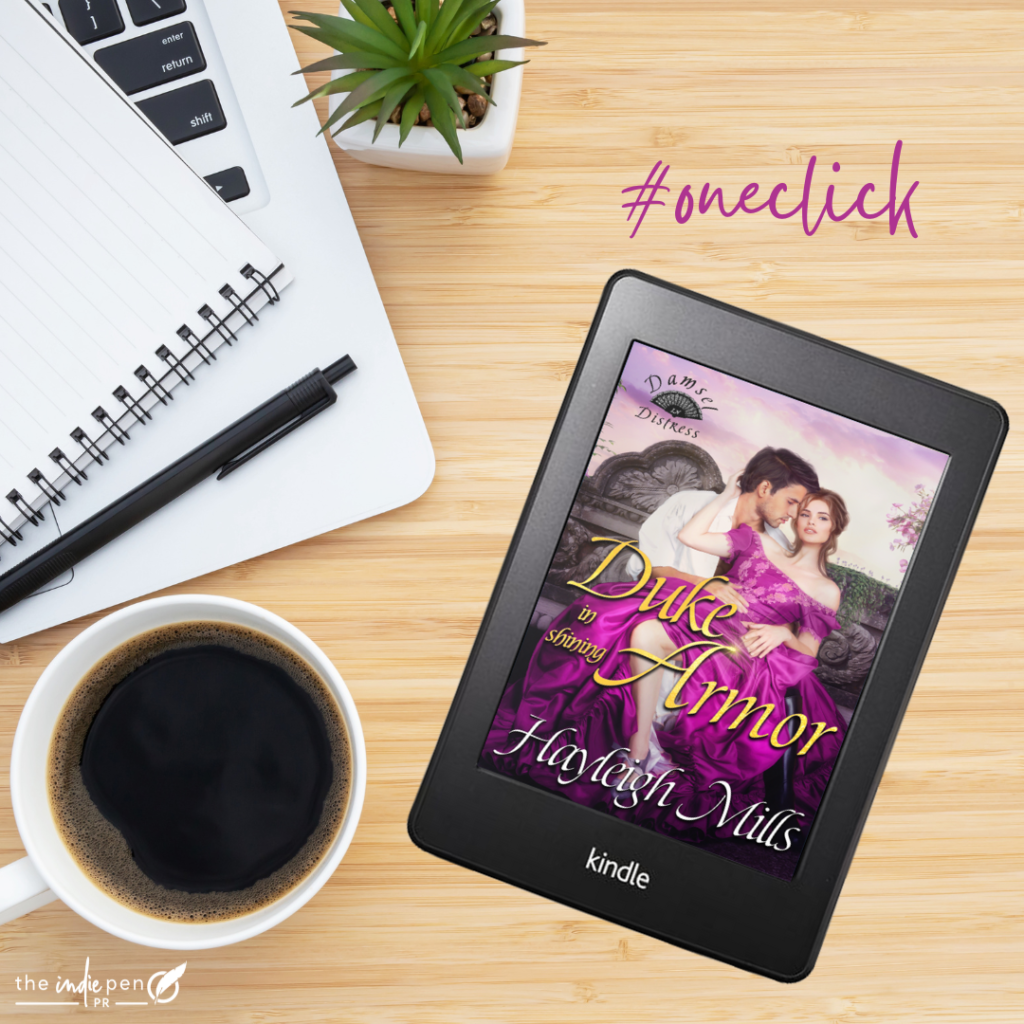 About Hayleigh Mills
Hayleigh Mills became passionate about romance when she started reading Mills & Boon in her late teens. She is an avid reader of historical romance, including the medieval period. Hayleigh pursued a career in the medical field but maintained a strong affinity for all things historical. She made the bold decision to relinquish practicing to follow her dream of becoming an author of historical romance.
Follow:
Facebook
|
Instagram
|
Goodreads Profile
|
BookBub
|
Newsletter
|
Amazon
|
Website
|
Amazon Profile
|
Goodreads
This promotional event is brought to you by Indie Pen PR