BLESS your HEART Release
BLESS YOUR HEART BY LYRA PARISH
Release date: June 13th
Genre/Tropes:
Small-Town Romance / RomCom / Enemies to Lovers Best Friend's Older Brother / Contemporary Romance / Southern Romance
Series:
Valentine Texas Series #1 - Standalone
CHECK OUT THIS NEW RELEASE!!
Bless Your Heart by Lyra Parish is NOW LIVE!
What you can expect:
enemies to lovers
best friend's older brother (3-year age gap)
rom-com vibes
Texas small-town romance-family saga
secret pinning
sassy, plant killing heroine
dirty-talkin' hero
guaranteed happily ever after
spicy AF scenes
complete stand alone
the first book in a feel-good series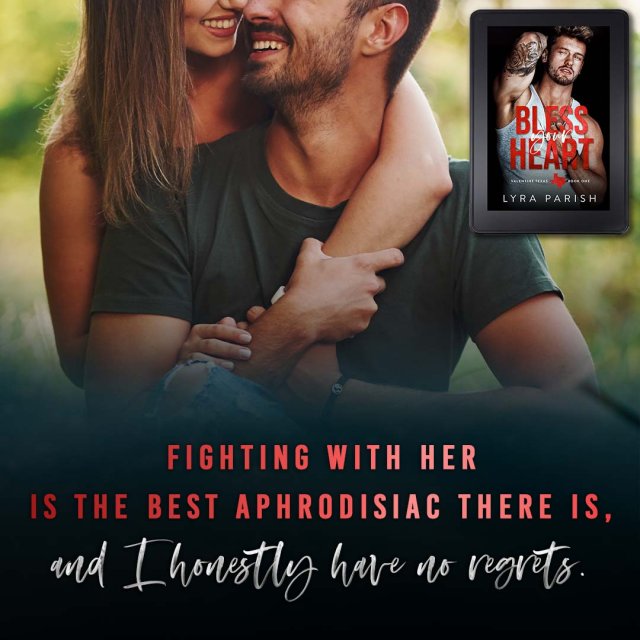 Grab this small-town rom-com TODAY!
Amazon:
https://amzn.to/3UZjaqX
Apple:
https://apple.co/3V3HyaN
Kobo:
https://bit.ly/blessyourheartkobo
Google Play:
https://bit.ly/blessyourheartgp
Barnes:
bit.ly/blessyourheartbarnes
Add to your TBR:
Goodreads:
https://bit.ly/blessyourheartgr
Bookbub:
https://bit.ly/blessyourheartbb
Blurb:
Summer Jones only wants three things in life:
1. Keep her house plants alive.
2. Open a beautiful bed-and-breakfast.
3. Never see or speak to Beckett Valentine again.
None of those things are currently possible.
Summer Jones and Beckett Valentine are rivals and have never wanted the same things in life except for the newly for sale Horseshoe Creek Ranch. Summer thought her dreams of building a B&B would finally come true until her number one enemy decides he wants the land, too. Beckett plays dirty and refuses to give her what she wants—a common theme in their relationship—and the dream of acquiring the property turns into a living nightmare.
They might've been at each other's throats since they were teens, but the stakes have never been so high. And right now, she's more determined than ever to take down her best friend's older brother—cowboy boots and all.
**Bless Your Heart is a small town, enemies to lovers, best friend's older brother, contemporary southern romance with a guaranteed happily ever after. Each book in the Valentine Texas series is a stand-alone. Warning: this book contains tons of Southern sass, sarcasm, and lots of spice! Fade to black is not included.**
Review:
This was a fun enemies-to-lovers story following two neighbors who get on each other's nerves. Summer and Beckett have known each other for years seeing as his sister is her best friend. She has always dreamed of bigger things and opening and bed and breakfast is something she knows she will achieve. When the property next to her family comes on the market she will throw her bid in and win. What she never expected was Beckett to go after it as well. As these two fight for their dreams, they will become a little closer when Beckett pushes her to go on a date. I love the banter these two have, the history, and the love that you can feel. But when push comes to shove who will win the bid for the property they both want and who will be heartbroken from both that and themselves?
About the Author:
Lyra Parish is a hopeless romantic who enjoys creating characters who eventually find love. She likes to write Texas small-town contemporary romance books (because she's a 5th-generation Texan) and romantic suspense. When she isn't immersed in fictional worlds, you can find her on Youtube chatting about her self-publishing journey or podcasting about romance books. Lyra's a Virgo who loves coffee, the great outdoors, authentic people, and living her very best life with her hubby. You may or may not know her from when she co-wrote under the USA Today Bestselling pen name Kennedy Fox.
Connect with the author:
Website:
https://www.lyraparish.com/
Instagram:
https://www.instagram.com/lyraparish
Tiktok:
https://www.tiktok.com/@lyraparish
Facebook Page:
https://www.facebook.com/lyraparishauthor
Facebook Group:
https://www.facebook.com/groups/658111944228905
Newsletter:
https://view.flodesk.com/pages/63cb1417b4f015f30446d3d0
Goodreads:
https://www.goodreads.com/author/show/7256865.Lyra_Parish
Bookbub:
https://www.bookbub.com/authors/lyra-parish
Amazon Profile:
https://www.amazon.com/stores/Lyra-Parish/author/B00HTFM1JM