uncharted Release
UNCHARTED by Leigh Adams
Featuring: All the boys and Catherine
Genre/Trope: Second Chance
AVAILABLE NOW!!! FREE IN KU!!!
https://geni.us/UnchartedAmazon
Add to Goodreads:
https://www.goodreads.com/book/show/61142757-uncharted
Salvation Society Author Page:
https://www.thesalvationsociety.com/books/author/leigh-adams/
Blurb:
I do not have time for a blind date. But that's exactly what I find myself on, thanks to my meddling friend.
The worst part is that it's with a guy I already met—and was kind of a jerk. A very hot jerk who works for Cole Security Forces, but still . . . I have much more important things to do, like finding the killer who took my partner on the police force.
On this date, Tyler isn't a jerk. He's funny, sweet, and makes my heart race when he looks at me from across the table. Neither of us want anything serious, and we agree to no strings attached.
We both should've known better. Nothing in our line of work ever goes as planned. When I get a break in my case, I know I have to tread carefully. Already there are feelings between us, ones we didn't anticipate. He has my heart, and that's a danger to us both.
When I go undercover to catch the killer, I have no choice but to keep Tyler in the dark and break both our hearts in the process.
Love is uncharted territory, and I hope we don't get lost trying to find our way back.
Review:
Marissa is so cool she's a cop who takes down the bad guys and she's good at it. She is so strong and loving and just wants to make sure she does her job right. When her friend nags her to death to meet a guy she gives in. But when that guy is someone she has already met and thinks is a jerk will she give him another chance? Tyler has been through so much that he's just trying to do his job and be there for his friends. When he meets Marissa again something changes in him and he's bound and determined to show her that he is different. There is no doubt that these two have chemistry you can feel it from the get-go. For Marissa, though things hit too close to home and her main goal is to find the killer before he takes someone else she considers family. Can Tyler help her and save her at the same time?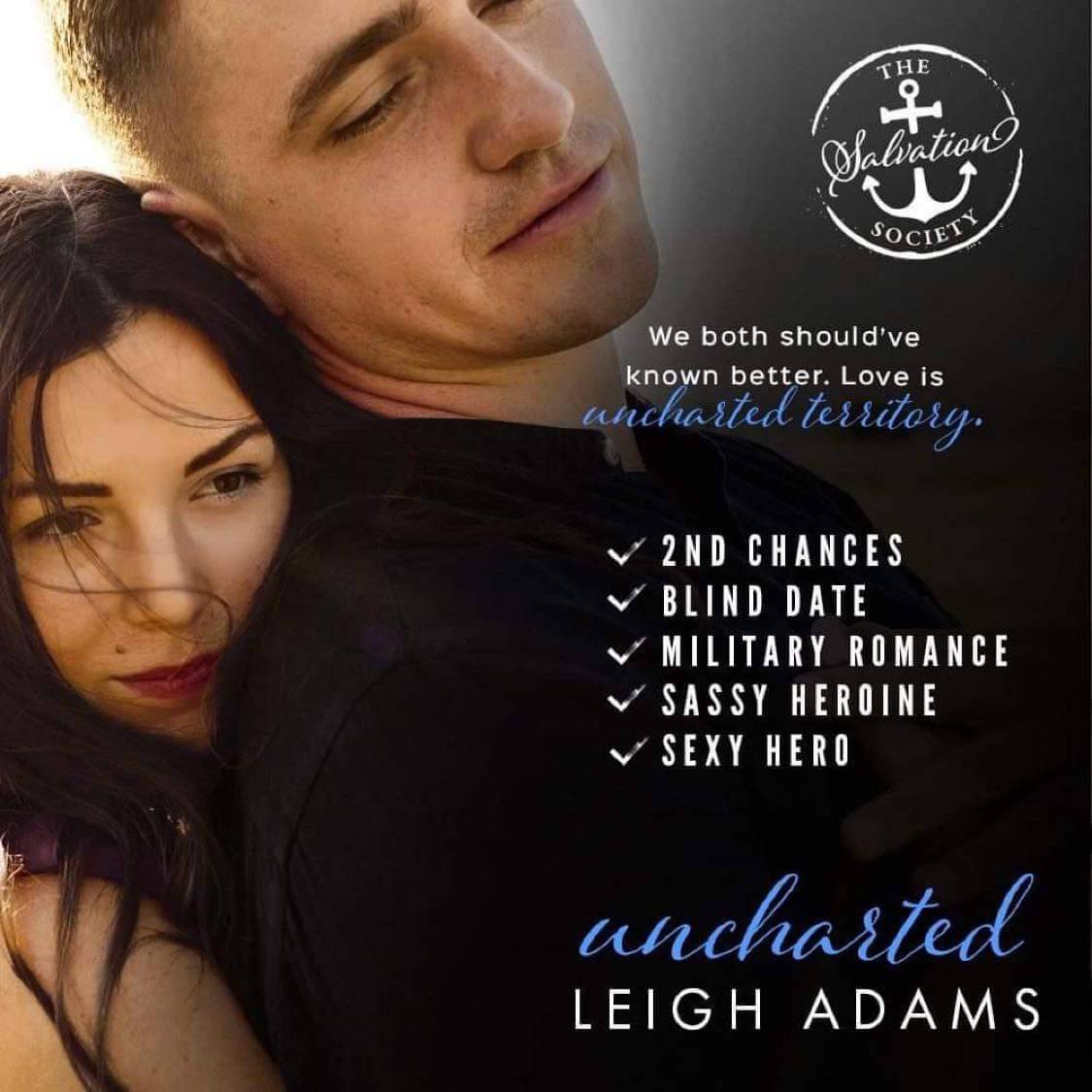 About the Author:
Leigh Adams resides in sunny southern California. As an avid reader and English major, she's always been passionate about literature. She is never
without a book in her hand and never leaves the house without something to read.
Growing up, she always planned to be a writer. That was until college and the adult world locked her into a role and career she came to love. With writing on
the backburner, Leigh worked hard honing her skills, creating her life, and focusing on helping others to find their passion and pursue their dreams.
After several years of working hard at her day job, she decided to redirect her focus onto her personal passion and picked up the pen to write. While she still
loves her day-job, Leigh also enjoys creating worlds and characters for readers
to utterly fall in love with.
Her novels contain a mixture of sweet, sass, and a whole lot of sexy. She writes heroines who are smart and snarky; and while some of them have been broken
and bruised, they still have a backbone. Her heroes are strong, sexy alphas who
are sometimes sweet and sometimes brass; but they always win the heart of their
leading lady. While some of her characters may be damaged, as a hopeless romantic, Leigh's stories contain no cliffhanger endings because she firmly
believes in giving each of her characters their own Happily Ever After . . .
When she's not writing, Leigh can most often be found laughing and living it up with her family and friends, trying a new recipe, or simply relaxing with a good
book or movie.
Connect w/Leigh:
Website:
https://leighadamsbooks.com
Facebook:
https://bit.ly/LeighAdamsFacebook
Instagram:
https://www.instagram.com/leighadamsauthor
Amazon:
https://www.amazon.com/Leigh-Adams/e/B08VWLZGJ8/
Goodreads:
https://www.goodreads.com/author/show/21156593.Leigh_Adams
Want to keep up with new books coming?
Sign up for the Live Alert ➜
geni.us/JoinSSociety
Hang out with us! ➜
geni.us/SSHangout